Maptek rewards innovation
Maptek supports technological innovation in mining through industry awards and promotes opportunities for university graduates and interns.
Interns skill up
Getting to know programming languages in depth, being exposed to new code bases and creating code in a supported manner stood out to the latest group of Maptek summer interns.
Six interns, who between them study Computer Science, Maths and Software Engineering, held roles across different Maptek teams in Adelaide for 10 weeks.
This latest program saw two interns coding in our experimentation team, where they applied more relaxed software principles to prototype new technology and innovate in an industry setting.
Maptek internships are mutually beneficial. Students gain real-world experience and an opportunity to see how they can apply their studies to industry problems. They find confidence knowing their code will appear in the software customers use every day.
Maptek gains insight into the next round of graduates and potential employees, and many interns later secure positions with the company.
Working smarter
Alison van Lent won the 2021 Maptek Women in Resources Technological Innovation Award for her work on FUSE, a sophisticated 4D digital twin platform created by the Intelligent Assets team at Woodside Energy. FUSE supports remote operations, providing one digital space to operate.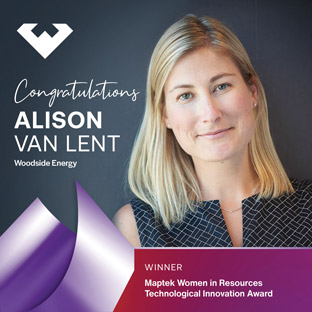 The software solution is used by operators, maintenance staff, engineers and others in a range of business processes to support safe and reliable operations. It allows early identification that equipment needs maintenance and automates the scheduling of that work. The data also helps Woodside optimise plant performance.
'A key capability of FUSE is to make things work harder so we can work smarter – it allows us to transfer information gathering, repetitive tasks and processes to the platform and free people up to focus on decision making and other higher value cognitive problems,' said van Lent.
'One of the value propositions is the ability to get data quickly into a single place by deploying our in-house engineered Internet of Things (IoT) sensors to fill in the gaps so we can automate certain tasks and enable better decision making.'
Van Lent was honoured to receive the award, and highlighted the importance of young women seeing that there are many interesting jobs in new and innovative fields that are becoming integral to the mining technology sector.
'To me, innovation means taking a risk and putting in the effort to try something new and unique even when you know it might not work.'
Van Lent emphasised that flexible parental leave policies (as Woodside provides), combined with supportive colleagues and partners, can really assist women to better plan out their career paths.
The Maptek Award was presented by the Minerals Council of Australia.
Maptek CEO Eduardo Coloma said it was an honour to recognise women at the forefront of innovation in the resources industry.
'At Maptek we value people and partnerships, and this award helps celebrate the success of individuals who push the envelope,' he said.
Interns and new graduates enjoy working at Maptek to apply their knowledge and learn new skills for career opportunities
Maptek rewards technological innovation by supporting industry awards and other initiatives that strive to push the possibilities for the future