Leadership changes into 2020
New global CEO for Maptek
Eduardo Coloma is the new global CEO to lead Maptek at an exciting time for mining.
America and Australia for more than 20 years, with expertise in sales, technical and managerial roles.
Commenting on the appointment, Peter Johnson, Director of Maptek, says, 'This appointment will allow for further global growth and I am confident that Eduardo is the perfect CEO to succeed me. I remain as director and will work closely with Eduardo and our shareholders to continue to set strategy and business structure as well as fulfil corporate oversight.'
Coloma, a Mining Engineer, is well-known to the industry and has hands-on understanding of the needs of mining operations. He is keen to see Maptek take the development and implementation of innovative technology to the next level.
'My experience across different countries and cultures has cultivated strong relationships within Maptek as well as with our customers,' states Coloma.
'A clear vision of the role technology plays in mining will ensure we offer solutions that help mines work in the easiest, safest and most effective way. Close alignment with customers is our hallmark.'
'Maptek consistently advocates for technologies to visualise, analyse, model and optimise every component of the mining process.'
'Today, mining is all about how to transform data into information to support the decision making process in a timely manner.'
Coloma holds a Civil, Industrial and Mining Engineering degree from the University of Antofagasta, Chile and also completed an Executive MBA at Adolfo Ibáñez University in 2008.
'Enrolling in the MBA proved to be one of the best decisions of my professional life,' Coloma adds. 'It was a unique experience and has proved integral to my career pathway.'
Johnson agrees, 'Eduardo has demonstrated that he has the skills and drive to strengthen and grow Maptek.'
Coloma is enthusiastic about the capabilities of Maptek people, and the potential for applying the accumulated knowledge to make even better products.
New GM for Maptek Africa
Gideon Slabbert has been appointed to the role of General Manager of Maptek Africa.
A Mining Engineer, Slabbert joined Maptek in 2017 as Product Manager for BlastLogic. He quickly demonstrated strong leadership, and an understanding of customer requirements and challenges in the region.
Slabbert replaces Nick Venter who will join Maptek's North American operations as Director of Sales and Technical Sales Support.
'Gideon has been a self driven individual and capable manager,' says Venter. 'He has a strong, experienced team and I believe he is the right person to lead Maptek Africa into further growth.'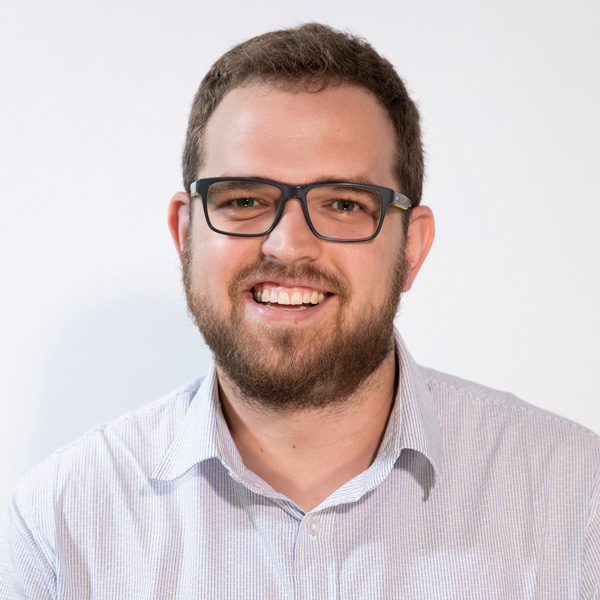 Eduardo Coloma is the new global Chief Executive Officer for Maptek.
Peter Johnson remains Director of Maptek to provide corporate oversight.
Gideon Slabbert to lead Maptek in Africa as the new General Manager for the region.