University partnerships
The Maptek office in Chile supports training of the next generation of professionals in the mining industry.
Internship program
The Maptek Internship Program in January and February 2019 attracted 32 senior year Civil Engineering in Mines students. Participating universities included University of Santo Tomás, University of Viña del Mar, Pontifical Catholic University of Valparaiso and Andrés Bello National University.
The focus was primarily on Design and Planning, in both open pit and underground mining.
The benefit to students lies in learning software that is leading-edge in the mining market, and moreover learning to use it to the standard of a professional user.
Students also had the opportunity to develop a project under the same demands and standards that they will face in the workplace.
The program gives work experience to local students in the Valparaiso region, decentralising opportunities usually available in Santiago. Maptek provides internships to those students who have shown a real interest in continual learning.
Learn more about Maptek university partnerships: www.maptek.com/university/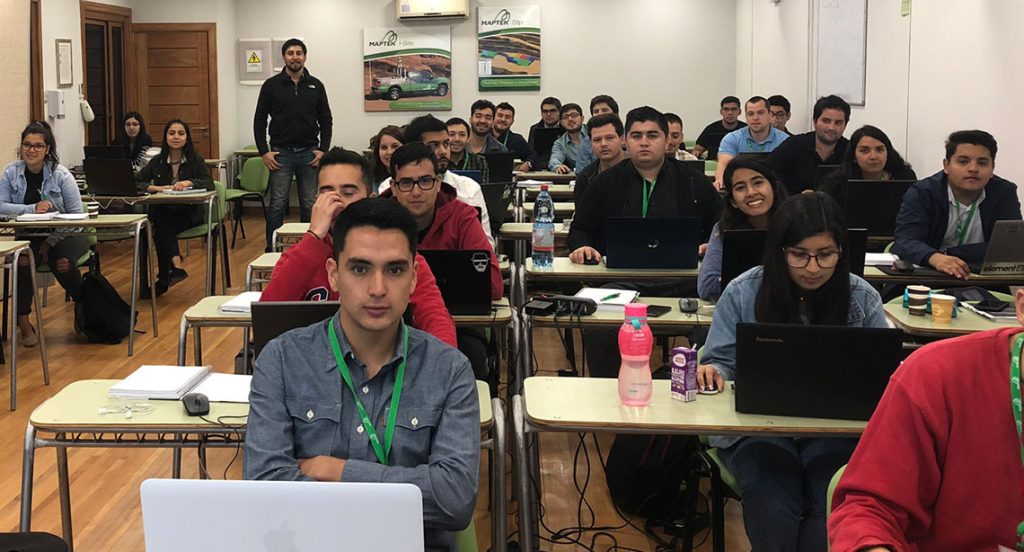 Master class
Thirteen students in their final year of the Civil Engineering in Mines degree at Pedro de Valdivia University participated in a Master Class at the Maptek office in Viña del Mar in May 2019.
Master Classes give the university the chance to train students preparing for mining associated careers in the technology widely used in the industry.
The main focus was to train them to use Vulcan Optimisation and Open Pit Design tools. Students gain everything from basic knowledge to advanced topics allowing them to improve their skills and promote their professional development.
Students are motivated to learn and show high interest in class participation as they recognise the importance that Maptek has in the mining industry and the benefit of Vulcan know-how for their professional training.
Maptek Chile helps final year Civil Engineering in Mines students become industry ready.
Vulcan Master classes in optimisation and open pit design promote professional development.
Internship programs give local students design and planning work experience opportunities.