Key positions drive innovation
Two new leaders promoted from within Maptek Core Technologies and I-Site software development teams will oversee delivery of the Technology Roadmap.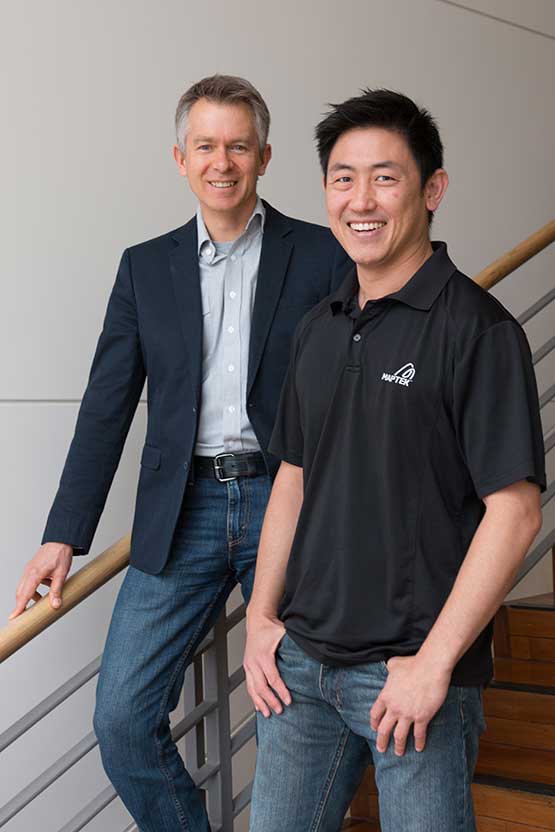 The Technology Roadmap is a summary of the major development and research projects which Maptek is undertaking in all product areas. Our solutions target orebody knowledge, mine planning and design, mining execution, measurement, reconciliation and technical disciplines within a mining operation.
Appointed recently as Chief Technology Officer (CTO), Simon Ratcliffe will manage technology strategy and how this can improve the value of mine planning and operational information. He will be supported by an expert R&D team focusing on data management and solution integration.
This team will collaborate with individual Maptek product groups to implement the functionality defined as critical to ongoing customer productivity.
'My new remit allows me to grow an innovation culture across the whole business, while also driving productivity and efficiency through better pooling of code and resources,' said Ratcliffe.
'Our aim is to identify opportunities faster and accelerate delivery of high quality, ground-breaking solutions to our customers.'
'We plan to maintain technical depth by developing world class code in-house where this creates strategic advantage.'
'Release of the Maptek Workbench in 2016 launched a mission that will ultimately provide a single, comprehensive platform for all spatial modelling, design and analysis tasks,' added Ratcliffe.
'Rather than concern about too much change, Maptek's bigger challenge is how to bring enough progressive change within our company and our industry.'
The Workbench will combine multi-discipline workflows and product capabilities (from Maptek and third parties) to work on a single data model shared throughout the value chain, bucking the trend of individual products being applied to individual processes. This data model can be connected forward across event horizons to execution stages and upwards toward enterprise and resource planning.
Users can set up and run scripts, edit spreadsheets, auto-populate fields and export reports in the same environment as their design and modelling functions, tightening integration.
Custom workflows across different applications will deliver another boost in productivity and facilitate hand off between groups.
Eureka will be hosted on the Workbench early in 2017, followed by I-Site Studio, BlastLogic and Evolution. Ultimately users will choose from a toolbox representing best practice in survey, design, modelling, scheduling, drill and blast, monitoring, geotechnical analysis and reporting.
Considered review of existing functionality will ensure that the rationalisation positively impacts our customers.
A top priority for the new CTO was leadership of software development for exploration, geological modelling and mine planning.
Former leader of I-Site software development, Jimmy Howlum is the new Head of Development Mine Planning. He looks forward to steering Vulcan and Eureka development from a broad cross-product view.
Howlum sees the Workbench as the linchpin for data sharing and enhancing user experience. Solutions which span traditional products and respect business process flow will radically benefit modern mining teams.
The new leaders will visit Maptek software groups in Viña del Mar, Denver and Sydney before concentrating on the implementation of critical roadmap items such as Vulcan 10.1 and Eureka 4, both due at the end of the first quarter in 2017.