Strategic approach unlocks value
Maptek CaveLogic allows operations to consider all of their economic and geotechnical data for defining the optimum footprint for caving operations.
Miners everywhere face the necessity to increase productivity and reduce costs.
Panel, or block caving, is widely considered to be the new frontier for underground mining. It involves massive volumes of material and large investment, requiring robust tools for assessing economic feasibility.
Maptek recognised the need for a solution that addresses this challenge, taking a strategic approach and delivering results in a transparent and analytical way.
Maptek mine planning solutions collect and analyse data and deliver results to support decision making for all commodities and operation types. Maptek CaveLogic underground strategic planning software is the latest development.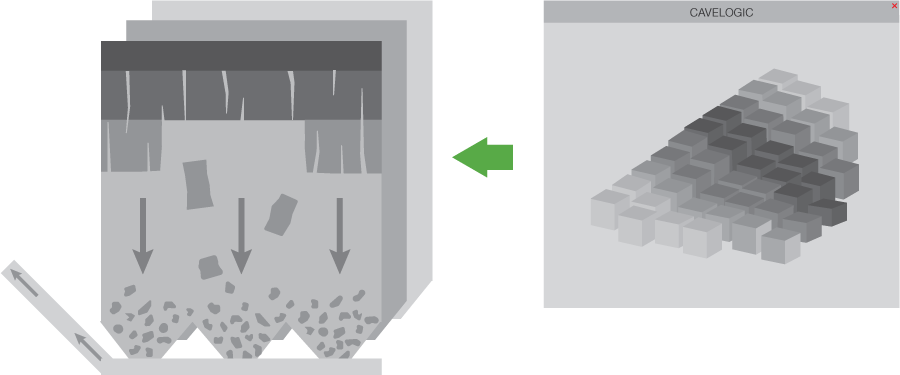 Connectivity between orebody knowledge, mine execution and production systems provides a unique design and planning environment. Well-informed decisions can have an immediate effect on mine performance.
CaveLogic provides planning engineers with powerful tools to define the footprint of the economic envelope and analyse the subsidence and interaction between the different underground levels. Using the most modern of optimisation techniques, including evolutionary algorithms, CaveLogic also creates a practical production plan.
The high impact graphical interface allows planners to develop visual animations of the production sequence and simulate strategic scheduling scenarios.
CaveLogic offers powerful new opportunities for strategic and long-term planning, allowing mining companies to retain control of their planning tasks.
A stronger user experience is an important priority for Maptek. Marcelo Arancibia, Vice-President South America, believes that mining operations will welcome the intuitive tools and powerful capability of CaveLogic.
'When mine planners operate without black boxes they can be more confident of reliable results for supporting decisions. Auditability further enhances certainty in the process, particularly when reporting to shareholders,' said Arancibia.
'CaveLogic works directly on the block model, considering the topography and the technical - economic parameters of the deposit. It is easy to use with a fast learning curve.'
An optimised interface facilitates the development of mining activity, simplifying process flow. This is very attractive for operations striving to meet KPIs.
The unique Maptek approach allows intuitive development of multiple scenarios for a project.
Practical production plans generated by CaveLogic allow for simple configuration to exploit a caving deposit using more than one level of collapse.
CaveLogic is applicable to greenfield and brownfield projects. Analysis of options can also guide management decisions in open pit operations transitioning to underground mining.
Maptek solutions are based on a deep technical understanding of mining variables. The aim is to to transform data into accurate information for unlocking resource value.
Customers can trust Maptek for the continuous evolution of CaveLogic as well as 24/7 world-class support for all levels of user-software interaction.