Fast, agile blast design and management
Through instant data connection and visualisation, Maptek BlastLogic re-focuses engineering time on design, tracking adherence to plan and improving process.
Maptek BlastLogic is an advanced drill & blast design and management system that is relied on in the most demanding production environments.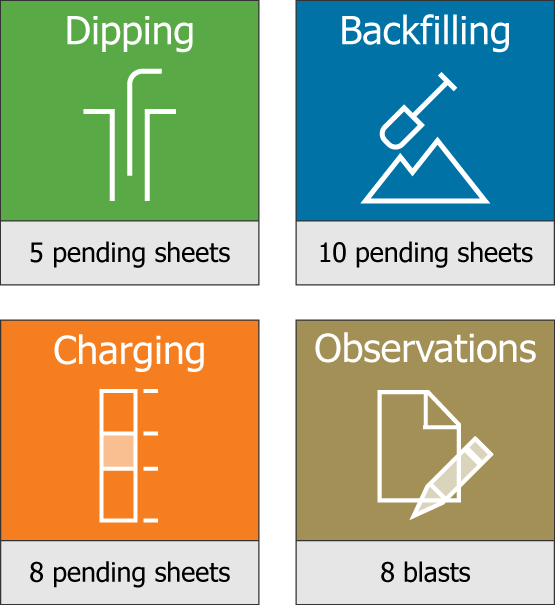 Users gain immediate access to operational data through interfaces with drill navigation, and the BlastLogic Field Tablet.
Very few sites have accurate up-to-date data available throughout their drill & blast process. Those that do are not always able to harness it, which effectively constrains improvement.
Traditional static systems create a large overhead for engineers to collate, review and manipulate data needed for effective design. Errors easily creep in, and grow in size and complexity when left unchecked.
The consequences are usually expensive. Difficulties in objectively understanding the root cause can lead to division between functional departments.
Fundamental requirements of any drill & blast process are quick identification of problem holes, fast and flexible management of exceptions, and the ability to update plans on the fly without interrupting or frustrating the blast crew.
Only BlastLogic links design to geology, and allows side by side comparison of multiple design scenarios with fragmentation, vibration and overpressure. This informs decision making at critical stages that impact cost, productivity and safety.
What happens if there is no time for engineers to review drilling performance, or QA/QC? Or hole charging has commenced at the same time as the review?
With BlastLogic, initial charge plans are automatically updated on the field tablets once drilling data is validated or as QA/QC data is collated. This means that the blast crew can commence charging of holes, while engineers can push through updated designs at any time without interruption to workflow.
'Reducing the turnaround of holes ready for QA/QC and charging means more bomb in the ground, thus increasing production.'
With BlastLogic, all data associated with the blast is stored centrally, and is accessible by multiple mines and users. Handover of technical tasks or sharing of information between geology, mine planning, geotechnical, survey and operations is transparent and seamless.
Deployed on the Cloud or on-premise, BlastLogic provides options to implement at scale, and only requires 3G connectivity.
Bringing together distributed data streamlines reporting. Importantly, data integrity can be trusted. Blast summary reports, drilling statistics, charge placement, field measurement and videos close the loop on design and performance.
BlastLogic provides a mechanism to catalogue blasts and detect subtle patterns over time. Through blast analytics in 3D and tabular data each mine can customise the factors used to measure and monitor blast performance.
Engineers can quickly relate performance such as dig rates, measured vibration, overpressure, blast movement, fragmentation or crusher throughput back to the blast design and how accurately it is executed.
This insight enables engineers to consider which instruments to fine tune to advance improvements in design and process. With BlastLogic, the tension between various blast objectives can be expertly balanced.
Operations must be agile to adapt to changing business landscapes. Collecting and maintaining accurate up-to-the minute data during drill & blast requires connected solutions and integration between processes.