End to end solutions in Vulcan 10
Maptek™ Vulcan™ 10 includes enhanced Gantt scheduling tools, new stratigraphic fault modelling and enhancements driven by user feedback.
Vulcan Gantt Scheduler
Vulcan Gantt Scheduler (VGS) is a resource and activity based scheduling module. Users can create and sequence activities, allocate resources, animate schedule scenarios, and report mining activities efficiently and transparently, all within Vulcan.
Gantt charts illustrate the start and finish dates of mining activities and allow users to clearly communicate the schedule variables by any period definition.
VGS was released with Vulcan 9.1 in early 2015. Customer feedback contributed to further development which is available in Vulcan 10. Upgrades include more levelling capabilities, additional colouring options in both design and Gantt bars, automatic filter generation, improvements in updating the schedule with project actuals, and precedence visualisation.
Ongoing development focuses on streamlining the Gantt scheduling process through better performance and capacity, increasing user efficiency. Attention has been paid to enhancements that improve stability and add extra functionality required by users.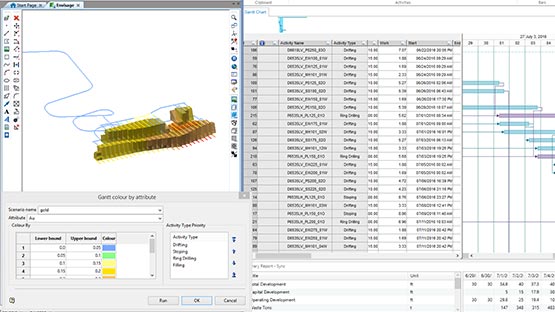 The flexibility of VGS has been demonstrated in various commodities, mining methods and planning cycles. Customer sites include underground metals and potash operations, and open pit coal and metalliferous mines. Direct connection between modelling, design and scheduling allows users to easily respond to changing scenarios.
Using Vulcan provides mining operations with an end to end solution.
Mining is a dynamic process, and many factors add to the complexity of mine planning. Accurate, repeatable processes are critical to the key desired outcome of predicting profitability. Accurate planning provides a firm base for costing, which ultimately impacts the NPV and cash flow from project startup through to mine reclamation.
Consider the interplay between four staged tasks of mine planning - resource modelling, mine design, scheduling and costing. If different software packages are used data transfer can create a management problem. Data can change at any time during any stage. Users must have confidence that updates are accurately reflected throughout.
If geotechnical constraints change, stopes must be redesigned and the schedule will need adjusting. As new survey information is collected, the schedule can be updated to reflect how much of a task has been completed. New activities can be added to the schedule while a plan is already in progress. If a block model changes, values already in the schedule can be easily updated.
Scheduled activities can be easily updated with new designs. Design colouring capabilities and animation help communicate the progress of mining much better than a Gantt chart alone.
Vulcan links the schedule visually to the design, making it easier to sequence, identify bottlenecks, level production and report metrics per period. This integration eliminates issues caused by transferring data between different packages and ensures all departments are working off the current mine plan.
Instead of separate packages for separate tasks, just two are necessary. VGS streamlines the process from model creation to scheduling, and provides the appropriate data for input to costing packages.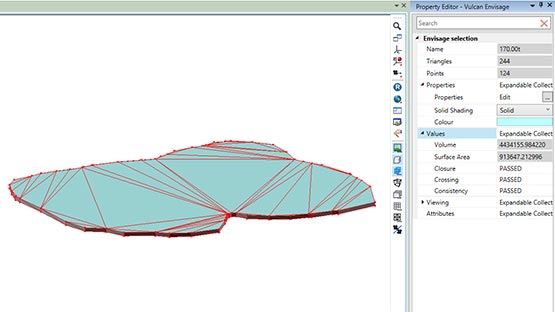 Stratigraphic Fault Modelling
A new Stratigraphic Fault Modelling method complements the existing 'blocks' method in Vulcan 10. Users can create reverse and normal faulted stratigraphic models using defined dip and throw, without requiring solid triangulation fault domains. The new modelling approach works with strings or fault surfaces as input.
Output from all stratigraphic options has been improved. Data points can be directly incorporated from drillholes or CAD inputs into gridded output via triangulated hybrid surfaces
Australian CoalLog Standard
Vulcan 10 is fully compliant with the new Australian Coal Logging statutory reporting standard CoalLog, which makes collecting and sharing coal exploration data easier.
Vulcan includes data entry sheets and standard code lookup tables for header, drilling, lithology and geotechnical data as well as a format for the transfer of this data.
Interest in the Australian CoalLog Standard has spread internationally since the first version was released in early 2012, with some companies in other countries also voluntarily adopting the system.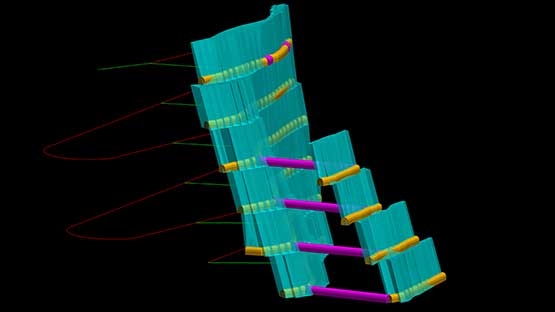 Vein Modelling
Vulcan 10 contains new options based on grid modelling methods for steeply dipping vein deposits. Rather than calculate separate surfaces for each hanging wall and footwall, a single plane is used to pick the vein which has the most data and fit a surface through it.
Level Designer
Vulcan 10 Level Designer includes support for transverse and longitudinal stoping, upgrades to fine tune outputs and the ability to apply a primitive in the attributes display. Specifying a length extends the crosscut beyond the stope.
3D Geological Sculpting
Solid objects can now be modified in freehand mode, including pinching, smoothing and cutting of solids, to better represent the geological interpretation.
Categorical Smoothing
This new geostatistical option improves output when using simulations and probabilistic modelling in block models.
Property Editor
The Properties Window has been re-released as the Property Editor in Vulcan 10. Users can conduct a wide range of queries on length and area of polygons, and change polylines from open to closed. Triangulations are validated quickly, and surface areas and volumes can be easily generated. Users can change between solid shade and wireframe triangulations, and access properties with one click. The intersection of any CAD object with the current section can be displayed; section widths can be used to apply a defined front width and back width to the object while in section view.