Spotlight on Vulcan
Maptek Vulcan™ 8.2.1 will include many improvements to functionality and performance.
The Maptek Vulcan™ 8.2.1 upgrade, available around April, will deliver more than 30 enhancements to existing functionality and improve the performance of Vulcan 8.2.
Upgrades include:
Drag-drop for 'Archive' files
Compositing with multiple weighting fields
Recolour of triangulations based on an external attribute file or based on the w tag of a secondary object
Start and end colours for automatic colour range to create consistent colour legends
Drill core photo interface through Coreviewer™ 
Automation executable for CSV Import and sample flagging
Section by line for multiple triangulations
Haulage profile equivalent distance calculation into a block model variable
Larger predefined Dynamic Memory Settings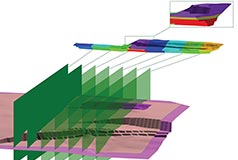 Vulcan 8.2 offers a smarter, stronger Boolean function.
A new algorithm introduced in Vulcan version 8.2 streamlines Boolean operations to help surveyors, geologists, mine planners and schedulers.
In the example shown here, mine planners took advantage of these improvements and were able to work with complex intersecting triangulations, and build and manipulate solids.
Multiple iterations can be run with confidence knowing that the triangulations are valid.
Thanks to Premier Coal,Western Australia
---
Upgrades planned for the Vulcan 9 release.
In Vulcan 9 Maptek will deliver two new tools that will expand users' ability to build geological and grade estimation models.
A new method to account for arbitrary search paths for grade estimation, known in the industry as Locally Varying Anisotropy (LVA), will help users model complex orebodies. LVA provides a flexible approach to create the models of anisotropies.
LVA is faster and easier to validate compared to current non-linear methods. The new option allows users to create their own anisotropy definitions or use the methods provided in Vulcan.
The implicit modelling toolset in Vulcan 9 will focus on the modelling of geological domains. It allows geological models to be created and updated directly from drillhole information.
Users will be able to include structural trend models and manual constraints, enabling faster results.
This new modelling method works alongside existing functionality in Vulcan, allowing users to customise their preferred method for modelling geology, or use a combination of implicit modelling and traditional techniques.
The introduction of implicit modelling in Vulcan 9 is the first step in a larger project. Users can expect to see further implicit modelling functionality in subsequent Vulcan releases. Customers with the GeoModeller module installed under current maintenance will receive implicit modelling with Vulcan 9 at no additional cost.
Customer feedback is an important driver for upgrades to existing Vulcan tools. In Vulcan version 9 users can expect to see enhancements to existing tools in underground ring design and underground design.
Underground ring design has been streamlined to improve the workflow and increase functionality. Users will notice a decrease in setup time and quicker processing speeds.
Underground design tools will be enhanced to allow designs to carry additional user defined attributes. A number of attributes, such as tonnage and grade, will be self-populated, helping users make decisions based on up-to- date data in the design.
The Vulcan 9 release is scheduled for beta testing mid year. Look out for more information on what's coming in Vulcan 9 in the next edition of Forge.