New I-Site XR3 and LR3 laser scanners
Maptek I-Site systems are well known for ease of use, accurate results and efficient field to finish processing. New features abound on the latest models.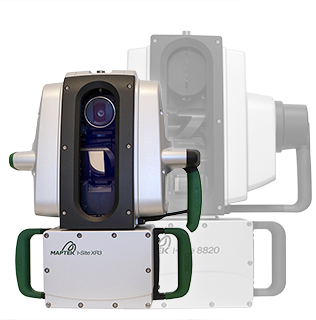 The Maptek I-Site XR3 laser scanner is an extra long range survey system combining fast accurate sensing, high resolution digital imagery and powerful modelling software for improving overall productivity and site safety.
The I-Site XR3 is 30% smaller and 25% lighter, with 2.5 times faster data acquisition than the earlier I-Site 8800 series. The scanner has a maximum range of 2400m. The system is protected to IP65 for reliable operation in rugged environments.
The system includes a new, improved high dynamic range panoramic camera for better digital imagery. This produces high resolution images for geotechnical analysis and visualisation. Snapshot imagery is a new feature.
The new I-Site XR3 laser scanner possesses the hallmark automated mine survey workflow favoured by surveyors, geotechnical engineers, geologists and mining engineers. Integrated software and hardware provide the optimal workflow.
Hardware and software have been developed concurrently, so the latest technology keeps step with advanced applications. Specialised geotechnical analysis is available through an optional I-Site Studio geotechnical module.
Streamlined setup and scan preparation makes the entire process faster. Geotechnical engineers and geologists require less time in the field collecting data to undertake geological mapping and geotechnical analysis.
Maptek I-Site laser scanning solutions are developed by people who understand survey needs.
I-Site laser scanners can be set up on a tripod or mounted on a vehicle for stop-go or continuous survey. The I-Site XR3 laser scanner is ideal for surface monitoring and design conformance.
The system is compatible with I-Site Drive, Maptek Sentry and Maptek PerfectDig.
I-Site scanners provide the fastest field to finish performance. Acquired scans can be reviewed in the field, so there is no need to repeat work to fill in gaps. Surface, point and global scan registration ensure accurate results. Multiple scans can be queued for maximum field efficiency.
Another new scanner has been developed at the same time as the I-Site XR3. The I-Site LR3 laser scanner has the same new features. The scanning range of 1200m makes it the system of choice for survey of small to medium pits and quarries, as well as indoor stockpile volumetrics.
Dedicated software also generates accurate survey deliverables for civil, forensic, architectural and infrastructure applications.
Modular design in both units allows sites to order a configuration to suit their particular application.
Applications
Large and medium open pit survey
Topographic survey
Stockpile volumetrics
Monitoring and rockfall analysis
Design conformance
Pre/post blast analysis
Geological mapping
Geotechnical/kinematic analysis
Erosion and deformation studies
Civil engineering survey
Architecture/facade mapping
Agricultural and erosion studies

New features
25% improved range
25% lighter
30% smaller
XR3 Maximum range 2400m
LR3 Maximum range 1200m
50kHz, 100kHz and 200kHz acquisition rates
High dynamic range panoramic camera
Snapshot imagery
Selectable multi-point returns
Hallmark features
Range accuracy of 5mm
Repeatability of 4mm
IP65 protected for tough conditions
Automated, streamlined survey registration
Ergonomic industrial design
Integrated standard controls
Flexible system configuration
Production facility with ISO 9001 quality certification