University partnerships
Students from universities across Australia used Maptek Vulcan software to learn about 3D orebody modelling for exploration projects.
The NExUS Program involved a three week intensive mineral exploration summer school at the University of Adelaide and was funded by the Minerals Council of Australia.
The program exposed third year undergraduates, honours students and recent graduates to the opportunities and challenges facing exploration as search areas move increasingly under cover.
Participants were selected from every state and territory of Australia with 13 different universities being represented.
The 3D orebody modelling component of NExUS was held in week three following the intensive presentations, workshops and field practicals into issues relevant to undercover exploration.
The NExUS program thus facilitated full circle exposure of course participants from conceptual exploration through to orebody modelling and resource/reserve evaluation.
NExUS students were provided with Maptek™ Vulcan™ 10 and instructed by Dr Gavin Springbett of G&S Resources.
The one day modelling program in December covered geological databases, data appraisal and validation, database compositing, orebody boundary definition (implicit and explicit), geostatistics, surface and block modelling, grade estimation, model visualisation/validation and resource/reserve estimation.
The practical session provided participants with a valuable understanding of the modelling process, the stages involved and tools available.
Another NExUS program is planned for late 2017. Maptek has a long association with the final year mining engineering design project at the University of Adelaide, and is pleased to support courses such as NExUS that contribute to the future of the mining industry.
Thanks to
NExUS
and Dr Gavin Springbett, G&S Resources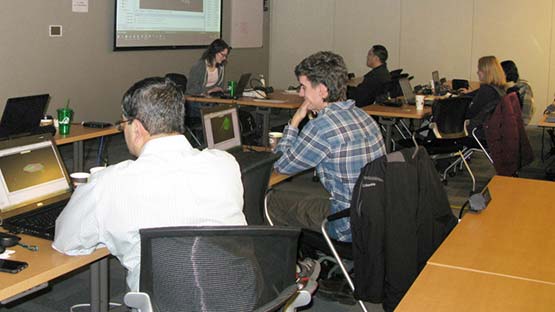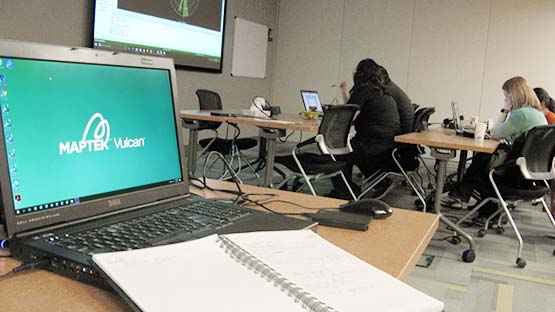 Maptek hosted educators from across North America's top colleges and technical universities in Denver.
A 'Train the Trainers' workshop in January was offered to university professors, researchers and teaching assistants to strengthen Maptek product skills and enhance their current curriculum.
Advanced training was also given in open pit and underground mine design, geostatistics, geotechnical and geology tools in Vulcan. Representatives from New Mexico Tech, Colorado School of Mines, Virginia Tech and University of Akron participated in the hands-on sessions, and a professor from University of Wisconsin - Eau Claire attended remotely.
The annual free course included Vulcan case studies and classroom examples to help professors develop a solid cross-disciplinary foundation that will shape the next generation of mining minds. A student-led learning approach followed the various Vulcan workflows and practical case studies.
The new skills were applied during the one-on-one curriculum development and lesson writing sessions.
It is often challenging for universities to obtain real world data for use in course work. Maptek provided a variety of pre-approved data sets, lessons and case studies that can be implemented directly into their courses and senior projects, leveraging off the work done by Maptek technical staff over the last few decades.
This training and resulting work supports the Maptek academic partnerships program, alongside the Senior Design LinkedIn group. We aim to ensure that future mining professionals understand and can best apply the available technology, by providing a solid foundation of geological and mining concepts connected to real world challenges.
The workshop has provided me with a skill set that has opened up new opportunities for my thesis. I'm excited to test the capability of your laser scanning instruments.
I was impressed by the quality of training and by the graphic capabilities of the latest Vulcan. I wish more academic professionals could take advantage of this opportunity.