Enhancing underground drill and blast
Maptek offers Aegis advanced underground drill and blast design for rapidly modelling, analysing and comparing blasts to optimise performance.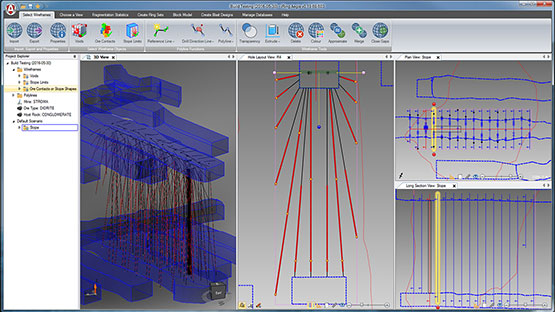 Maptek continues to deliver advanced technology solutions across the mining value chain. The introduction of Aegis strengthens our underground drill and blast capability, enabling users to create patterns for an entire stope in seconds, even for complex narrow vein situations.
Traditional ring design applications require intensive engineering effort to generate a design, and are not optimised for comparing alternative scenarios. Given the production and operational pressures, it is common for designs to be created 'just in time'.
This makes it inherently difficult for engineers using the traditional approach to balance the various controllable and fixed factors that impact drill and blast to achieve the blast objective safely and efficiently.
Smart analytical tools and real-time costing allow for a results oriented approach to blast design.
Aegis provides a unique automated-interactive workflow that allows engineers to rapidly produce drill and blast designs complete with slot raises, charge placement, blast sequence, priming, timing and cost.
When the time comes to issue the layout for drilling, customisable plot templates with drag-drop viewports and report tables are automatically populated from the layout. IREDES export is also supported to upload the plan to compatible drill rigs and then download the actual drilling results back into Aegis.
Designs are archived together with all associated blast geometry to enable reconciliation of actual to plan. Users can quickly recall and review information to advance improvements in design and process for future blasts.
Aegis Analyser provides advanced tools for modelling blast energy and cavity break, as well as managing fragmentation. The ability to calibrate the analysis using actual blast results enables engineers to improve blast outcomes and reduce downstream handling costs.
Aegis is a very intuitive and powerful tool with a rich 3D design environment for engineers to design and assess drill and blast layouts for cost and outcome. It is ideal for underground metalliferous mines using longhole mining methods including sublevel stoping, block caving and panel caving. Contractors who perform longhole drilling services can quickly recover costs. New tools for drift advance and shaft sinking are currently under development.
Maptek BlastLogic is used by surface mines for advanced design, modelling and management of drill and blast. Aegis supports the same applications underground and can be used with Maptek Vulcan, I-Site, Evolution and Eureka.